Switch Dx³ Dashboard & Appliance
A plug-and-play appliance continuously scans for all compatible systems, firmware versions, sensors and devices—highlighting connectivity, network integrity and risks—ultimately paving the way for planning and budgeting for a smart building.

Compare results against previous scans to track progress in achieving readiness, commission contractor work, and continue to monitor the health of connected devices.

Digital Readiness Score & Integration Opportunities
After running the automatic scan, you will receive a score that indicates how much of your existing infrastructure is smart building ready. Identify potential cybersecurity vulnerabilities and impacts to data flow. Discover your BACnet, Modbus and IP connected equipment and available data points, necessary for an open, integrated architecture.

Capture the scope of your connected equipment and available data, leveraging industry-standard open protocols. Get a quick glance at individual factors impacting your score, or dig deeper into integration opportunities, which devices are offline, what points are utilized, what potential network vulnerabilities exist and more.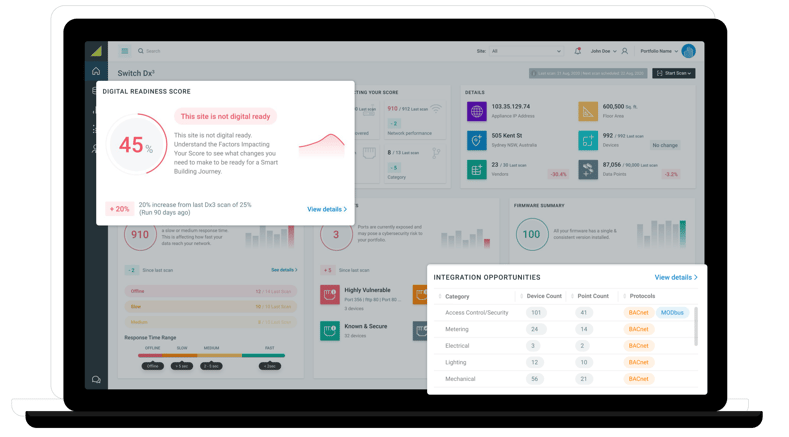 Network Ports
The Switch Dx³ building network scan provides you an assessment of existing devices to efficiently tag and normalize data, improving engineering time. View the status of network ports to identify potential cybersecurity vulnerabilities and impacts to data flow.

Network Performance
Get a detailed view of what devices are online/offline, communication speeds and response times. This provides a clear path forward in any upgrades or replacements needed to successfully integrate your smart building operating system.


Firmware Summary
Capture every devices' manufacturer, equipment type, number of devices, firmware versions, and available data points with every scan. Identify inconsistent firmware versions. which that some devices have not been upgraded to the latest and most secure.